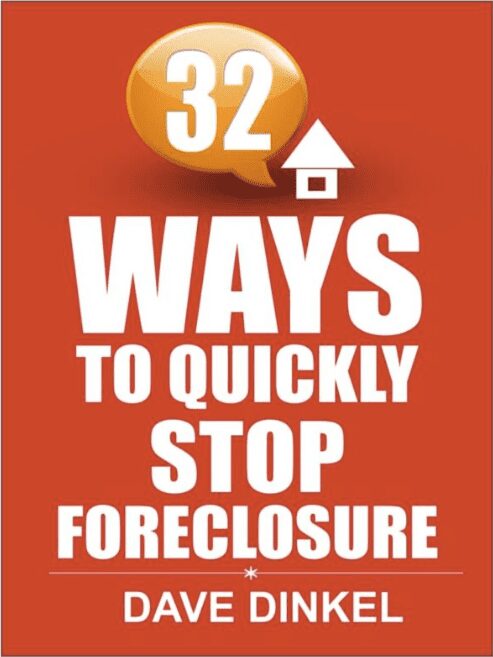 Discover 32 Ways to Resolve Any Foreclosure Immediately, AND 12 Ways For You To Make Money Even If You Lose Your Home OR Have Lost It To Foreclosure As Much As 15 Years Ago! (This Information Is Not Known By Many)
You Can Save Your Home And Your Credit By Getting Immediate Access To Proven Techniques That Will Completely Eliminate Your Foreclosure Problem.
You Will Receive Step-by-Step, Day-by-Day, Hour-by-Hour Solutions To Your Foreclosure Problem.
Here is Just a Sample Of What Is In This Book:
223 Pages

Of Information Specifically Written To Give You The Tools Necessary To Take Control of Your Foreclosure

32 Ways Guaranteed To STOP Foreclosure, Immediately!

12 Ways to Make Money From Your Foreclosure Even If You Lose or Have Already Lost Your Home

42 Ways To improve Your Credit Score

17 "Things To Avoid" – There Are Things You Should Not Do Under Any Circumstances

80 Ways To Make Or Save Money Whether You Save Or Sell Your Home
Dear Foreclosure Victim,
WE ARE NOT TRYING to buy your home! The material you will receive when you purchase this ebook is solely for the purpose of you "Saving Your Home Yourself" or if necessary, "Selling it Yourself at Full Market Value". We do not want you to fill out a questionnaire to "help" you, with the real intent of stealing your home way below market value.
The information in this EBook will guide you hour-by-hour, day-by-day and step-by-step until you take back control of your destiny.
For the first time ever, a professional real estate investor with over 47 years experience, discloses Secret Methods that he has learned through his personal experiences dealing with thousands of foreclosure victims.
Now you can use his experiences to Stop People and Institutions From Robbing You Of Your Home's Equity and ways to Restore Your Credit by as much as 240 Points In As Little As 90 Days!
Hundreds of thousands of foreclosure victims are annually ROBBED of an estimated $32,746,380,000 (that's Billions!) because of greedy Individuals who take advantage of homeowners just like YOU!
Foreclosure is a national crisis that destroys families, ruins their credit for years to come, and is both embarrassing and humiliating. But whether you want to keep your home or just want to sell and get out, the information disclosed in this EBook will put you back in control of your situation and give you options to stop your foreclosure.
If you over speculated in the real estate market and are facing multiple foreclosures, there are also solutions for you.
"We purchased our first pre-foreclosure property in 1975. As a very experienced real estate investor, I have seen the tragedy of foreclosure thousands of times and I can tell you there are numerous solutions! Lenders, investors, and mortgage brokers will not tell you the real solutions because then they won't make money from your situation."
Stealing equity from homeowners by advertising to help "resolve" their foreclosure problem, by doing little or nothing that benefits the homeowner, is a multi-billion dollar industry
It's Just Not Right! This is money that homeowners could keep by using the tactics, techniques and secrets revealed in this EBook. "It is truly worth investing in the low cost of this Ebook for what you will get by using these techniques."
Because few people expect to go into foreclosure, most are not prepared for the seemingly complicated legal process, the gut-gripping fear of the unknown, the constant paralyzing indecision because of the uncertainty of what happens next, and the endless amount of advertising from lenders, credit counselors, mortgage brokers, attorneys, realtors, and investors wanting to "help" them with saving their home and/or their credit.
The reality is that the majority of these people simply want to make money off the homeowners' problems, but most often the homeowner just wants to keep his home.
If you feel embarrassed and alone you should know that over 2,000,000 homeowners will go into foreclosure in the next two years. Whether you are just thinking about foreclosure or have already been served with a default notice, you have the ability to take control of your situation so you can "Save or Sell" your home and stop the embarrassment.
THERE ARE NUMEROUS SOLUTIONS FOR FORECLOSURE and you will see them unfold shortly. You will be getting the information needed to stop your foreclosure very quickly, often in as little as a few hours!
Remember! This Ebook also reveals twelve ways to make money off your foreclosure – even if you have already lost your home. There are techniques to recover equity in this Ebook that may apply to you, even if you lost your home years ago. "These techniques of profiting from your foreclosure have never been put together and disclosed to the public in this easy to follow format."
"Time is your worst enemy in foreclosure and now is the time to take action to solve your foreclosure forever!"
One of the traits we observe of foreclosure victims is their fear of making the wrong decisions which generally results in a devastating conclusion to their foreclosures. Taking charge is critical to your successfully completing your foreclosure. You are better off to take action than to be evicted because you are in denial of this happening to you. This is especially true if you are waiting on a friend, family member, or separated spouse to bail you out. Your first decision should be to order this course and get started reading it
There are at least 87 courses offered by real estate gurus for the sole purpose of teaching investors how to make big money buying foreclosures from homeowners in trouble. These courses aren't cheap, costing up to $2,495 each. These courses are being offered by guru investors proclaiming the "student" can become a millionaire using the techniques they teach to get foreclosure properties at way below market value. Go online yourself and Google™ "Stop Foreclosure" and see how many sites are looking to buy your home or that are teaching sites for investors to learn how to steal your home. We only found four sites with texts written exclusively for homeowners that actually gave information on how to stop their foreclosure and keep their homes. Honestly, we ordered every one to see what to expect. Because of what we saw, we decided we had to publish a comprehensive step-by-step course.
What is really surprising was the beliefs some authors have about foreclosure. One author believes that lenders are keeping a HUGE secret from homeowners, specifically "Banks don't want to own your home". Well surprise, Banks DO WANT to own your home if they can make a profit by selling it! We show you how and when you can make the money banks are looking to steal from you. Another common misconception is the "B" word, "Bankruptcy makes banks quake in their boots if you threaten them with it!" Absolutely WRONG AGAIN! Banks can have your home discharged from your bankruptcy in a matter of five minutes (time for a court hearing) and you are left to deal with the bankruptcy for 7 to 10 years – right? WRONG YET AGAIN, bankruptcy stays in the public record for up to 20 years and public records stay on your credit report for as long as they stay in the public records! Don't be misled by individuals that aren't active in the real estate market full time and who don't see thousands of foreclosure situations annually.
Knowing just the correct information about the banks wanting your home or not, and how a bankruptcy is treated, could save you tens of thousands of dollars in lower interest rates in the future, could get you jobs that you otherwise might not have gotten, and save you general embarrassment when anyone looks at your credit report. Saving a few dollars buying a less expensive text could cost you THOUSANDS of times its cost over the next ten years.
The time to take action is now! The major reason for people losing their homes to foreclosure is their lack of action and trying too late to save their home. We will even show you a technique that can stop your foreclosure on the day of the auction sale, and it is not bankruptcy! But all our information is worthless if you don't click the box below and get started on decoding which of the 32 strategies will help you the most. Click below now!
Overview of What You're Getting:
A 223 page Ebook that you can immediately download to store on your computer or even print a hard copy
PLUS ALL THE BONUSES LISTED BELOW!
Introduction (page 7) – Table of Contents and Introduction – You will find a "Warning" in this section which is a "must read" for anyone about to become or who is already a foreclosure victim!

Chapter 1 (page 13) – Understanding the Foreclosure Process This chapter gets you started into understanding the various types of liens and mortgages; judicial and non-judicial foreclosure; where you are in the process; state laws that effect your foreclosure; how to stall for time and what stalls won't work; what happens if you are evicted; and 13 Tips and Scam Alerts that will greatly help you with understanding and getting control of the foreclosure process.

Chapter 2 (page 42) – Determining Your Ability To Keep Your Home; In this chapter you will find how the calculations are made; decision making process; and 3 tips that will show you the reality of some choices which could save you a great deal of money later.

Chapter 3 (page 50) – How And Why You Should Determine The Equity In Your Home; You will learn what are real values and which ones are not; the two categories of foreclosure victims, methods of extracting home equity; what to do if your home has little, some or lots of equity; and 1 Tip about taking or not taking a lender's solution.

Chapter 4 (page 59) – Understanding Your Mortgage And Why You Should Care; Answers the question "Do you have a deed of trust or a mortgage?", and what is the difference?; specific clauses in your debt instrument and why you should care; and 3 Tips that cover money making or money saving ideas.

Chapter 5 (page 67) – 32 Specific Methods Of Stopping Foreclosure; Introduction; 4 Scam Alerts to save you from losing your money or your home; 17 item summary of what Not to Do; 20 ways to stop foreclosure and save your home, including 12 pertinent Tips and money making ideas; 12 ways to stop foreclosure EVEN if you have to sell your home including 17 Tips for you, Scam Alerts and even one HOT money making idea; Escrow options, probate foreclosures and foreclosures for investors.

Chapter 6 (page 123) – Quick Start Check List Shows hour-by-hour, day-by-day and simplified step-by-step procedures of what to do.
BONUS REPORTS INCLUDED WITH YOUR PURCHASE:
Bonus Report #1 (page 139) – "12 Ways to Make Money From Your Foreclosure, Even if You Already Lost Your Home" and for as far back as 15 years! Plus 3 special items – a Tip, a Scam Alert, and a very powerful piece of information that could make you tons of money.

Bonus Report #2 (page 149) – "How to Get Your Home Back at 50% to 90% of Your Loan Value". This is a legal way to get your home back using techniques that only investors know and use; also includes a scam alert and two Special Tips.

Bonus Report #3 (page 161) – "Secrets Homeowners Should Know About Lease Options" including two ways to keep your home using lease options; and 2 Special Tips.

Bonus Report #4 (page 165) – "Buying Your Home at the Foreclosure Auction". While most people will swear it can't be done, we show you how to do it legally. Also included are another 3 Super Tips.

Bonus Report #5 (page 1) – "Do-It-Yourself Credit Repair for Homeowners" includes information on how the credit system really works, 42 specific methods of repairing your credit AND ways to make money doing it. Also included is a section entitled: "The Bankruptcy Myth" that discloses the issues with bankruptcy. You will see where to get information on how to increase your credit score by as much as 240 points in as little as 90 days, and 6 Tips with a Fraud Alert that will save you or make you money.
You Can Grab Your Copy Right Now
Plus All The Bonuses
On Sale For A Limited Time
Guaranteed To Stop Your Foreclosure