"Discover the Pros' Secrets to Finding Thousands of
Motivated Buyers and Sellers in Just Hours!"
"Whether You Are a Real Estate Investor or a Realtor®, Now You Can Discover 48 Ways to Create a Massive Buyers List By Finding Thousands of Motivated Buyers and Sellers in Just Hours."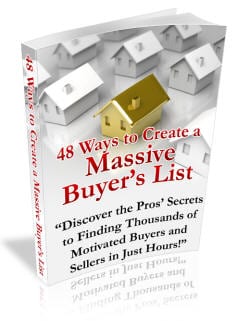 This text is changing the real estate industry like no other course material in the past 25 years. It is leveling the playing field between every real estate investor and realtor® as far as building massive buyer and seller lists – don't be left out, now is the time to become part of this wave of change!
The Key to Building a Truly Successful Real Estate Investing Career Depends on Your Quickly Building a Powerful Buyers List. I Even Disclose How to Find "Whale" Buyers Who Buy 2 – 10 Properties per Month!
Now you can instantly overcome the Nagging FEAR of "Who Do I Sell It To?"
"At last, you can laugh in the face of fear!"
The next time you get a property under contract you'll have a buyers list to immediately sell it to. You will tell them by email or telephone about the property you have and your terms and conditions – you are in control. Your only investment in the deal is a small deposit with the seller, and as long an inspection period as possible so you can "change your mind" at the last minute.
Now it is only a matter of how much you will make on the deal and how soon!
Perhaps you are looking at an REO with a very short or even no inspection period and you have to put up a large deposit that is truly at risk. Again no fear, just send it out to your buyers list and get a cash buyer to fund your deal! We do these deals constantly because of the power of our Buyers List and so can you.
From: Dave Dinkel – Real Estate Investor Since 1975
Dear Investor or Realtor®,
Many years ago, like so many investors, I had a terrible fear of not being able to sell a property quickly. As a stockbroker I could sell stocks in minutes but I didn't have any real control over buyers for my houses.
I had classic symptoms of unabashed fear that I wouldn't be able to sell my properties, would get stuck in them forever, would be financially drained of my capital, and might even lose them to my hard money lenders with big equity in them.
I had a constant feeling of being sick to my stomach when I discussed the houses with perspective buyers and felt helpless and powerless most of the time.
What really angered and frustrated me was working with retail buyers who made promises they couldn't keep, or had no real intention of keeping in the first place. Frankly, I almost gave up real estate investing.
My only hope was to take control of the sales process for my retail and wholesale deals. The retail deals were easy as we perfected the modified auction program we have used for almost the last 20 years. It literally sells houses in just one or two weekends and at full Market Value or higher – even in the horrific markets of 2007 – 2009.
For the wholesale deals, I developed and started using the techniques in this E-Book to build a massive buyers list that allowed me to sell my wholesale deals in just minutes or hours instead of days or weeks. Since I always had multiple offers, it was easy to get terrific prices and many times I made almost the same profit my buyers did when they rehabbed and sold the same properties to a retail buyer.
Next, we took list building to a whole new level by building a buyers list just for retail buyers. The list building tactics are different but the results are the same – we easily sell retail properties in just days instead of weeks or months. This is something every realtor® should look at and use to skyrocket their business.
Anyway, I went ahead and put together more than enough "insider" information so anyone willing to do some minimal work can use this material and software to quickly build a highly qualified, and productive, buyers list. I even included a section on "How to legally acquire the largest wholesalers' buyers lists"!
You are literally just minutes away from beginning an explosion of buying power that you can use for your own deals, resell to other investors, or use to partner with other investors. The profits from just one single wholesale deal will pay for this E-course hundreds of times over.
To your limitless success,
WARNING
This material is so powerful that I have been requested numerous times to not release it. I am doing it anyway because it could easily be the difference between your success or failure as a real estate investor, or a super player as a realtor®. The choice to take advantage of it is yours.
INDEX
Topic
Page
Disclaimer
2
Index
3
Introduction
4

Chapter 1

– The Massive Importance of a Great Buyers List
6

Chapter 2

– The Most Important Aspects of Your Buyers List
10

Chapter 3

– The Quality of the Buyers on your List
17

Chapter 4

– The Much Can a Realtor Help You?
19

Chapter 5

– What are the Top 10 Mistakes Investors Make Building Their Buyers List?
21

Chapter 6

– What is the "Average" Buyer Worth? Reviewing the "Value Matrix"
22

Chapter 7

– The 48 Best Ways for Finding Your Buyers
23
Including Whales and Baby Whales
24
"Millionaire Maker Idea"
29

Chapter 8

– What Information Do You Need From Your Perspective Buyers?
75

Chapter 9

– How to Get Them to Join Your Email List Without Spamming Them
77
Whale Letter
79

Chapter 10

– Watch Out For Dying Whales
80

Chapter 11

– The Power of Niche Mailing Lists
82

Chapter 12

– How to Keep Your Buyers on Your List
85

Chapter 13

– How to Market to Your List if You Don't Have Properties to Sell
87

Chapter 14

– How Much Should You Make on Each Deal?
90

Chapter 15

– How to Legally Obtain Other Wholesalers' Buyers Lists – without their even knowing it!
93

Chapter 16

– What Documents You Need to do Deals
95

Chapter 17

– Why Wholesaling is Recession Proof
97

Chapter 18

– Questions That I Get Frequently
98

Chapter 19

– 10 Steps to Getting Starting
100

In Closing

104

Article of Interest

– "Making Money on Craig's List"
105
PARTNERSHIP AGREEMENT
108
ASSIGNMENT OF CONTRACT
109
The Reason I Developed this E-course Was To Crush the Fear Investors Have of Not Being Able to Sell Their Deals!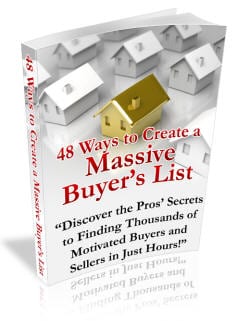 I personally believe we have the most successful mentoring program in the country. Before these investors became my students, one of their biggest fears was "How do we sell properties once we get them under contract?"
We have an arrangement with our local mentor students that we initially use our buyers list to sell their properties. It works very well for them as they can concentrate on their finding deals and the first deal usually always pays for their entire mentoring course.
However, eventually they must become self-sufficient at selling their own properties and a strong buyers list will always handle this issue.
Our out-of-state students have to come up to speed quickly as finding the deals is not as hard as selling them in this market. Some of the students who were part-time had trouble getting enough names so I would coach them individually depending on where they lived.
An investor should have about 300 – 500 perspective buyers to successfully and continuously market his deals. This can take time if you don't do it properly. The usual thought is going to local investment club meetings and doing card swapping.
This could take years to find the actual buyers instead of the "Looky Lous" in the groups. Remember, the heavy hitters or "whales" as we call them, seldom ever come to these meetings – why should they?
We have a list of over 10,000 highly-qualified names on our email list from our tri-county area. They were accumulated quickly and sorted by using specific methods you'll discover in this material.
Most importantly, for the first time ever, we reveal how and where to find those continuous buyers we call "whales". Whales are those investors who continuously purchase 2 – 10 houses a month usually to rehab and rent, rehab and sell at retail, or they are wholesalers who flip these deals to other investors.
So I went ahead and put together more than enough "insider" information that anyone can use to quickly build a buyers list.
Take advantage of this offer before I come to my senses and withdraw this "industry changing" e-book. This material will level the playing field between the newbies and the seasoned pros in just days of using it!
Here's What You Get By Taking Action Today!
| | Description | Value | You Pay Only |
| --- | --- | --- | --- |
| | "The Ultimate Secrets of List Building" your 109 Page E-Book with tons of insider list building strategies and specific recommendations to make money in real estate. Wait until you see the killer method called "Millionaire Maker Idea"! | $197 | $97 |
| | "Tracking Your Buyers" Excel format software to get you started for saving the prospects' names, emails, contact information, telephone, and even their ads online. | $27 | $0 |
| | "Partnership Agreement"** Contract to protect your interest in any deal you do. It is time tested and has made us thousands of dollars – don't do business without it! Delivered in a Word and PDF format so it can be easily modified. | $29 | $0 |
| | "Assignment of Contract"** The simplest method for an investor to get started doing deals with NO money! A must have contract to get your career racing. Delivered in a Word and PDF format so it can be easily modified. | $29 | $0 |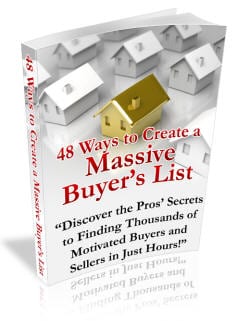 This price of $97 for the E-Book and all the bonuses is less than a meal for two people at a medium priced restaurant. What do you have to show for the money you spent at the restaurant versus even one idea from this E-book that will net you tens of thousands of dollars because you could sell your property faster!
"Actually, the cost of this e-course is less than Sixteen Cents a day for a year."
Is that ridiculous or what? That's not affordable; it's dumb on my part. Before Nancy (my wife of over 50 years) realizes I am giving this "Industry Changing" E-book away, take advantage of my offer before she makes me increase the price to what the national gurus would charge!"
To Recap – Here is Everything I'm Going to Give You:
"The Ultimate Secrets of List Building" – 109 Page E-Book
"Tracking Your Buyers" – Excel format software
"Partnership Agreement"**
"Assignment of Contract"** – Early Order Limited Time Bonuses
"Weekly Insights" – the Compilation of the First 25 Weeks
"Dave Dinkel's Automated Super List Builder"
Frankly, even though I think this product is great, I'm not sure how much demand there will be for it. I have been highly criticized by other investors for releasing it, but I am testing it now to see if it's really worth releasing this product. So if demand isn't great, then I'm pulling this product forever. However, if demand is good, then I'm raising the price. So if you don't act now, you might have to pay more later, or you might not be able to get this product at all!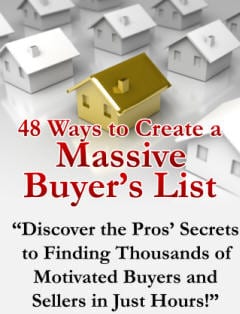 I am looking forward to your turning your dreams into reality. I believe this material is a giant first step to accelerate your achieving your goals and I look forward to working with you in the future.