Every Real Estate Deal Profitable!
Every Real Estate Deal Profitable!
Now artificially intelligent software shows you how to make money Every Time, in Any Market, and it even prints an Irresistible Offer for the seller.
Unveiled is the secret of how to take charge of any real estate deal, even before you make an offer, knowing that you control its outcome.
You will instantly gain confidence to make more offers knowing they will be profitable and greedily accepted by sellers.
Dear Fellow Investor,
A "killer" mistake that real estate investors make is not being able to quickly and properly analyze deals. If wrong, the mistake can be costly and they get discouraged and return to the rat race. For the first time ever, there is a solution to automatically determine whether a perspective purchase will be a profitable "Deal or No Deal"!
Many realtors and economists are calling this the worst real estate market since the Great Depression. However, savvy real estate investors are still making tons of money. They are able to because they know how to make offers that will be profitable and get accepted by sellers. These pros formulate an exit strategy that assures a profit, before they even commit to any purchase!
Having seen many investors abandon their dreams of financial freedom through real estate investing, I decided to disclose and make available the software I personally wrote that forever resolved this problem for me.
My "Deal or No Deal" software automatically calculates the Contractor and "Do it Yourself" repair estimates, buy and sell closing costs, carrying costs for as long as it takes to sell, wholesale and retail selling prices, the profit/loss estimate for different offers to a seller, structures an exit strategy, prints both repair cost estimates and a formal presentation to the seller that CLOSES the deal – BUT only if it will be profitable. The software does all this and much more with just a few simple keystrokes.
Before investors try the software, I often get asked "How is it possible?" First, this simple-to-use software has an "Artificial Intelligence" to compensate for different repair costs anywhere in the United States or, in fact, any other country. Secondly, I have programmed in 33 years of personal real estate investing experience so the software gives the investor the answers to making deals using little or no money!
Within minutes of your purchasing the "Deal or No Deal" software, you can complete your first Property Review by reading the 24 page "Quick Start" manual and Bonus 64 page Property Sample Evaluation. This manual contains an actual property evaluation and the outcome of the "Deal or No Deal" analysis. This deal was offered at $140,000 with comparable sales of $300,000 and $320,000, estimated repairs of less than $50,000, and it still wasn't a deal. However, my software exactly predicted what to do with the property and a profit of $19,900 resulted – with NO MONEY into the deal!
No it's not hard to use. In fact, if you can turn on a computer, select a software program (Excel™ format ONLY), type on a keyboard, and load paper in a printer, you can immediately start giving contractor bids on rehabs; "Do-it-Yourself" repair estimates; determine all financing, closing and carrying costs; and know for SURE whether any property you are looking at, is a "Deal or No Deal". Then, with a single key stroke, you can print a professional and irresistible presentation to a motivated seller that is guaranteed to be profitable for you.
"How long does it take to collect the information and put it in the program?"
It typically takes between 10 to 15 minutes to inspect a property completely (no measuring every room or climbing in attics), and less than 60 to 90 seconds to load your data into the software. As soon as you are done imputing your data for the property, the software generates a printable "Presentation to Seller" that you will use to get the seller to accept your ridiculously low, but logically accurate, offer. This software is your ultimate sales tool! The only reason a seller wouldn't greedily accept your offer is because he isn't motivated.
I even provide a "Telephone Data Collection Sheet" that allows you to do your repair estimates and make calculations while on the telephone with the seller! You don't even have to see the property to know what price to offer, and more importantly, what TERMS to offer. This feature allows you to automate your buying process to take you to the next level.
"What will this really do for my investing abilities?"
You will no longer miss deals that other investors grabbed because you couldn't get a handyman or contractor to bid your project. You will immediately be able to generate repair estimates and profit expectations, and know what purchase offers to make that require little or no money. Finally, you will know whether to wholesale the property, keep it to rehab to make the big money, or do what I call "Wholesale to Retail", or not to make an offer at all. All these answers are given to you automatically and instantly!
Calculates a Contractor bid price and a Do It Yourself Cost.

"Now you can use the Contractor bid price my software generates to check what your Contractor should be charging."

Determines a CASH Offer and Multiple Term Offers to make to the seller.

"This eliminates the fear of not knowing if your offer is too high or too low."

Gives the user a Repair Budget so he knows if he is ahead or behind the profit curve.

"The repair costs are broken down into the most important areas of a rehab, and the software even allows for a margin of error for unforeseen costs."

Calculates the expected Profit or Loss on a Wholesale/Flip transaction, including all the associated costs with the deal.

In the accompanying Manual where we review an example, I give insight into how I am able to get TWO to THREE times the profit spread of the average wholesaler."

Accurately calculates the BUYING Closing Costs for a Buy and Hold Rehab, Double Closing and Flip, or a Contract Assignment – all at the same time.

"Now you can know what to expect when you go to closing!"

Calculates the loan costs for Hard Money, Conventional Financing, Private Funding, and for a Double Closing.

"These costs are what often made a difference between a profit and a loss to newer investors – NOT ANY MORE!"

Calculates the TOTAL Expenses of all related costs to the purchase and sale of the property to arrive at an Expected Profit or Loss BEFORE THE PROPERTY IS PURCHASED!

"Finally and instantly, eliminates the nagging FEAR of whether it is a "Deal or No Deal"!"

Calculates an in-depth Analysis for Expected Profit or Loss in FOUR situations: Buy/Hold/Sell if a Contractor does the work, Buy/Hold/Sell if you Do It Yourself ("DIY"), For a Double Closing with Hard Money Either for a Wholesale or Retail Deal or an Assignment or Flip.

MOST IMPORTANTLY, it produces a printable Presentation Sheet for the seller so he understands why your offer is not as ridiculous as it initially sounds.

"This type of analytical overview has produced hundreds of millions of dollars of profits for investors because of the logical nature of the presentation."

P.S.

– for the old-school fans of a "belly-to-belly" presentation with a piece of paper at the dining room table, I included a "Quick Analysis" sheet that uses standard percentage price reductions (EASILY ADJUSTABLE) to arrive at a reason for the investor's LOW offer to the seller.

"This has worked for many years, BUT DON'T use this for your personal analysis of the property or you might go broke with unforeseen costs!"

P.P.S.

–I may not have made it clear previously but, the software user can easily change as many values as he determines necessary to calculate "What If" scenarios – including changing the offering price, ARV, closing costs, repair costs, time to close, time to sell, time to rehab, and the list goes on and on…..

"The software is as powerful as the user wants it to be!"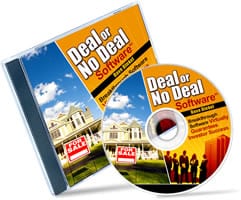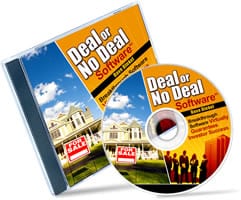 "Wouldn't you agree that this information is INDISPENSABLE for both newbies and seasoned investors?"
But I am not done giving out my secrets, so I included even more in this software "bundle"
Once an investor buys a property to rehab, a frequent problem I see is his not keeping track of his ongoing costs.  This can easily cause a "cost over-run" resulting in a reduced profit and sometimes even a loss.
I resolve this issue in two ways.  First, the "Deal or No Deal" software calculates an expense budget for a Contractor doing the work or for the investor doing it himself.  Secondly, I programmed my simple-to-use "Expense Tracker" software that automatically uses the daily expenses to give a daily Profit and Loss Statement.  I made it modular so it can be used simultaneously for multiple projects giving a P/L statement for each project as well as all the projects combined.
NEVER again should an investor have to get caught in run-away rehab expenses, because now he will know what to expect before he starts and how he is doing day-to-day!
"Many investors have said my "Expense Tracker" software saved their butts, especially when rehabbing multiple properties."
What the "Expense Tracker" Software Does For You –
Calculates a Profit or Loss Statement for any property, any financing terms, even including the use of an Assignment or an Option Consideration Fee. "The software calculations include all of the following related expense sub-categories:"

Expense Category – Option Price Paid to Seller. "This cost is for an Option to buy a property with as little as $10 for a year or longer."

Expense Category – Assignment Cost to a Wholesaler.

"If the investor buys a property by an assignment of contract, this cost is figured into the Profit and Loss Statement."

Expense Category – Advertising Costs can get expensive and the software tracks your daily expense from bandit signs to newspaper ads and everything in-between.

"In some parts of the country it is taking longer and longer to sell a property, so advertising expenses can be very important to track."

Expense Category – Appliance/Air Conditioner/Heating is a category that can break a budget in an instant, so it is handled as a separate and important category here and it is where you will enter appliance purchases for the kitchen.

"Using the "Deal or No Deal" software, you can NOW accurately estimate the replacement or repair costs of these major mechanical systems."

Expense Category – Carrying Costs are the "profit vampires" that include, but are not limited to, mortgage payments, HOA fees, taxes, etc.

"The software takes into account these nasty profit eaters when it does its calculations."

Expense Category – Labor is important especially if you are paying casual laborers and aren't keeping track of who is getting how much.

"Some people don't want to acknowledge that they are paying "under-the-counter" cash for work done, but these are costs so whether you claim the costs and related tax withholdings, these are taken into account."

Expense Category – Materials is used to tracks all those "nickel and dime" material costs, rental costs and items that take hours to get and minutes to install.

"Tracking these costs are CRITICAL to your profit because EVERY ONE ultimately comes out of your PROFIT, so enter them yourself every day or have someone do it for you so you have an accurate Profit and Loss Statement at hand daily!"

E

xpense Category – Utilities is for all ongoing utilities including deposits so you won't forget to get them back when you sell.

"There is nothing worse than having power or water turned off because the utility company sent the bill to the former owner's new address. Eliminate this issue because you will be able to see when they should be paid and if they have been."

Expense Category – Miscellaneous is a "catch all" for anything you can't decide where to put in a previous category – plenty of room here too for entries.

"If you are having a lot of "unanticipated" expenses, you need to look carefully at what you didn't anticipate and why, if this expense category gets too large."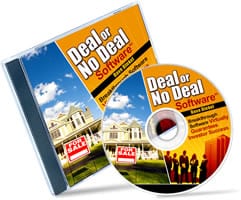 "Can you imagine how this software
could eliminate your fear of making offers?"
could eliminate your fear of making offers?"
But that's still not everything I've included for you!
A new and deadly profit killer has become a major downfall of many investors in just the past two years.  This is the problem with accurately determining After Repaired Value ("ARV").  Even if you buy a property at what you think is a great deal, if you can't sell it for that price, you could suffer a loss.  So I decided to go one step further and show you how to COMPLETELY overcome this FEAR.
Appraisals, Broker Price Opinions ("BPO's"), Comparative Market Analysis's ("CMA's") are all subjective guesses. Remember the people giving these analyses have no risk of capital and will admit their value estimates are only "informed" guesses.  Try and get an Appraiser or realtor to buy your property for what they estimated its value – it won't happen. 
The historically most familiar value estimates use Comparable Sales to get a final Fair Market Value ("FMV").  This has long been the standard for appraisers, realtors, and investors.  But recently these values are not indicative of what you can actually sell your property for on any given day.  If you over-estimate your sales price, resulting in a longer holding time on the market, the result could be disastrous!
Because of this new development in the market, I am also disclosing the method I always use to determine what I call "REAL ARV".  I use it for wholesale and retail deals, and in fact in the Bonus 64 page presentation you are getting with the "Deal or No Deal" software package, you will see an actual property that had comparable sales of $320,000 and was priced at $140,000 AND it was a NO DEAL.  However, my software showed how to make the deal work, resulting in a $19,900 profit.
"This software's method for finding the "true" values of properties, REALLY kept me out of many deals that could have cost me a bundle. This has been especially true in the past year because of the rapidly falling prices in our area (10% to 20% per year). If prices in your area are sky-rocketing, the same calculations take place and you will be informed to get MORE money for your property."
What the "ARV Calculator" Software Does For You –
Gives you a REALISTIC VALUE that you can start offering your property at and feel confident that it will be sold. It will not be the lowest price in the neighborhood unless it warrants this estimate.

"This price is a starting point because the software "builds in" a price reduction to the buyer. This is especially necessary if you find yourself in a 'Soft Market".

The methods used with this software will allow the user to find other deals in his neighborhood and using the "Deal or No Deal" software, give the investor the various options of funding these deals with little or no cash.

"This software can also be used by Wholesalers to accurately determine the REAL ARV instead of guessing and advertising to buyers an unrealistic ARV, and using the "Deal or No Deal" repair cost estimator, can show buyers what to ACTUALLY expect for rehab costs."

The software Is intuitive and adjusts your selling price automatically if your area is changing rapidly in value – either UP or DOWN.

"This feature eliminates the issue of your home being offered at a price that was OK last month but the market is falling so fast that you are left behind to take less money like the distressed sales around you."
So what value would you place on this software?
Why hasn't anyone told me about doing business this way?
They probably just don't want you to know, want to sell more courses, or just don't know about it themselves!  I developed this software to make my life easier.  With all the information it gave me, I was able to out-bid the "Giant Real Estate Wholesale Buying Machines" who spend millions of dollars on advertising.  These guys still make offers to sellers by using a simple "Maximum Allowable Offer" ("MAO").  The MOA is the After Repaired Value x some percentage (50%, 60% or 70%) minus repair costs.  Once you see one of their offers, you can safely out-bid them forever because my software tells you how high to go before the property is no longer a deal!
This MOA equation is simple and it works "OK" in good market times, but in stagnant or declining markets it is not enough.  Frankly, my software allowed me to "murder" my competition by confidently making profitable offers by using the killer sales presentation the software generates.
Frankly, I got very frustrated last year seeing real estate gurus selling investors mentoring courses for thousands of dollars and not even providing them with the basic information my software provides.  No wonder so many investors spend tens of thousands of dollars on courses and never use them because of their fear of the unknown.  I decided it was time to "take charge" and give back to the investing community the secrets I've learned since I bought my first property in August 1975. 
To this end, I added to my software what I call an "Artificial Intelligence".  This sub-program allows it to adjust its repair, closing, and carrying costs to any sized home in any part of the country.  So whether you live in Alaska, California, or New York, my software will adjust for the local price of labor and materials, loan costs, closing costs, carrying costs, and produce super accurate estimates of these expenses.  Accurately predicting expenses is a key secret to making large profits in real estate.
If using this software sounds complicated or a lot of data entry is required, it's not so!  In fact, I hate to use the cliché "Even a caveman could use it", but it's true.  I designed the software for minimal data entry –the user only needs to enter the price he is expecting to pay, the After Repaired Value, any liens against the property, and a quick overview of the repairs needed.  The software takes over and instantly does the calculations necessary to give the investor failure-proof offers that eliminate his fear of making a bad offer to his seller.  And it prints the irresistible offer that any motivated seller will accept!
As a Shameless Bribe to get you to act today, I am including the following Bonuses ABSOLUTELY FREE –
BONUS #2
An actual Property Calculation Example (64 pages) that walks you through the entire process of evaluating a property and how all the estimates and projections are automatically calculated. This real deal netted a profit of $19,900 for 20 minutes work and with NO money out-of-pocket, in February 2008, in a really "BAD" market. You'll see exactly how it was done.
VALUE $97
9 Reasons to Buy TODAY!
1. Your Registered Copy of "Deal or No Deal" Software developed and written by a 33 year veteran of real estate investing.
2. Your Registered Copy of "Expense Tracker" Software developed and used by Dave Dinkel for his investing.
3. Your Registered Copy of "Expense Tracker" Software developed and used by Dave Dinkel for his investing.
4. Your Registered Copy of "What Can I Really Sell It For?" Software for determining the "REAL ARV" of any property.
5. Bonus #1 – "Quick Start Guide" (24 pages) with all the info to get you pumping out confident "killer" offers to sellers in just minutes.
6. Bonus #2 – An actual Property Calculation Example (64 pages) that walks you through the entire process of evaluating a property as a "Deal or No Deal".
7. Bonus #3 – Lifetime updates for ALL three software programs!
8. Bonus #4 –Direct access to Dave Dinkel's personal email at Dave@DaveDinkel.com for as long as you own the software to ask any questions about real estate investing! Please have your questions well defined when you send the email to save us both time.
9. Bonus #5 – What you have always wanted, the Confidence and Peace of Mind to make irresistible offers to sellers that are always profitable.
Total Bonus Value $781.00!
Total Bonus Value $781.00!
You can control your future; don't waste it with indecision and uncertainty. Now is the time to take charge of your destiny by buying this miraculous software before I raise the price.
I am attempting to limit the sales to one sale per county so the owners of the "Deal or No Deal" software have an unfair advantage over their competitors. Frankly, I like to have an "edge" over my competition because it puts me way ahead of the crowd, and I want my friends and associates to have these advantages.
I can't guarantee that I can hold my merchant account and shopping cart to this "one per" county standard, so I reserve the right, at any time, to stop offering the current pricing and stop selling in any county in the country, or internationally. Once your order has been processed I will honor your purchase, but otherwise, it is a first-come first-serve basis.
Here is What You Will Be Receiving In an Immediate Downloadable E-format: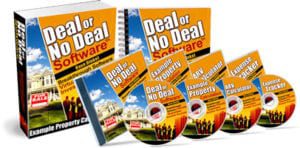 I Want To Order Your Massive Software Package. I want to take my business to the next level by no longer fearing to make an offer to a seller and finding out automatically if it is a "Deal or No Deal". And I want all the Bonuses you offered ASAP.

I understand

that, once my order is authorized, you will process my order promptly and send my software and e-books immediately through your internet server, which should arrive in 15 minutes or less, and if it hasn't, I can contact you and get help at

Support@DaveDinkel.com

.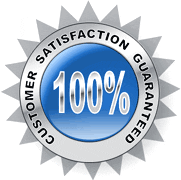 "I have been a real estate investor since 1975, and in the last 35 years, I have bought and sold hundreds of properties. I bring all this experience to this software and the e-books that accompany it. I know that you will be pleased with the software and its many uses. If I have stated anything in this text that is not in the software, I will gladly refund your purchase price for the next 30 days."
Disclaimer – This software operates on an Excel™/Microsoft™/Windows™ operating system/software, but is in no other way related to any of these entities. The Excel RE Software (A/K/A "Deal or No Deal" Software) is a template programmed by Dave Dinkel and not by any party related to Microsoft™. There is no affiliation between Dave Dinkel and the Microsoft™ Corporation or any of its affiliates, and no such relationship is so implied in any of this material. The name excel was chosen because of the unique nature of the software, it "excels" above any other similar software, and for no other reason. Additionally, the term "Deal or No Deal" is in no way related to, nor has any affiliation with a popular TV show, and this term has been used by Dave Dinkel personally in his businesses since 1975.