Attention Investors and Realtors®
"The Ultimate Guide to Probate Investing"
"The Ultimate Guide to Probate Investing"
Reveals Exactly How to Make Massive Profits and Commissions With Probates – Especially if You Don't Understand How Probates Work!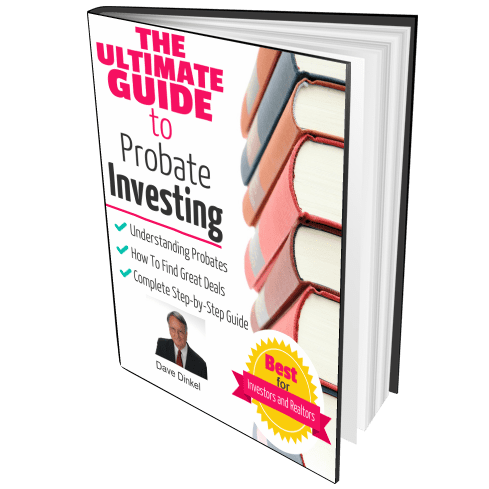 From the Desk of Dave Dinkel | DaveDinkel.com
Dear Fellow Investors, Listing Agents and Brokers,
If you are ready to seriously increase your income, this may be the most important book you have ever read.
Is it really possible to explode your income as an investor, agent or broker both ethically and legally?
Some people call investors and Realtors® vultures and bottom feeders who take advantage of heirs in a probate.
In fact, this is very far from the truth. As investors and Realtors® we are problem solvers for our clients and we get paid very well for our successes and nothing for our failures.
Truly motivated sellers do not "nickel and dime" a buyer to get the highest possible price, they want closure with their headache – the sale of their "problem" property. In probate situations, the heirs want to cash out and move on as quickly as possible.
Obviously, there are exceptions where the heirs will wait seemingly forever to get a few extra dollars but they are the exception. By and large most heirs want either to keep the property because it will be free and clear or they want to get their share out as cash ASAP.
My newest E-book, "The Ultimate Guide to Probate Investing" is specifically designed to give readers a complete Step-by-Step understanding of how the Probate Process works and how to use the "probate system" to make massive investor profits and two to three times the usual buyer or listing agent's commissions.
This book gives specific techniques and tactics to use to get probate deals under contract (Listing Agreements or Purchase Contracts) and how to do these closings with No Money of Your Own. Sound impossible? Investors have been doing these no-money transactions as a regular course of business in EVERY state and thousands of times every month.
So Why Not You?
Let's jump right in and I'll show you…
Exactly What You're Getting
"This is not a text or book like you have ever read!"
There's no fluff, no fillers, simply battle-tested tactics, techniques and real-life examples that will work for you as an investor or Realtor® and it's easy to read!
At 70+ pages and almost 18,000 words you can read it in an afternoon and start using the strategies IMMEDIATELY to explode your income….
In the first part of the text you'll get a complete education on how the Probate Process works. Discovering and understanding this process is the gateway to rapidly expanding your personal income.
"Part 1"
Includes Answers to Various Essential and Fundamental Questions and Educations you on:
"Part 2"
Discloses Specific Techniques and Tactics to Make Massive Profits and Educates you on:
Let's take a further look at
SPECIFICALLY
how you can benefit from the contents…
Specifically how to Prospect for Beneficiaries to get more listings and larger profits for investors – Step-by-Step! It's not as simple as sending letter after letter – that's not what the Big Boys do!
How to handle uncooperative Beneficiaries that are stalling or stopping the probate's conclusion resulting in a delay of commission income or no profits for investors!
This is where REALLY huge profits are made by savvy investors and Realtors® who know what to do next.
You better understand contracting and who's legally able to sign your Agreements or Contracts. The legality and practicality of who signs and when can make for a huge profit or total loss in a deal because of your listing agreement or contract being INVALID…
Discover how important the Chain of Title is and how it offers IMMENSE opportunities for investors and Realtors® to make even more money.
Find out about the HUGE opportunity that exists in doing Short Sales while the property is in probate. Average investor assumes these properties have no value – WRONG!
But know what you'll really love?
You'll See Real Life Examples!
As a new or seasoned listing agent or broker you face the real probability that somewhere in the future you'll have to split your hard-earned commission with a buyer's agent.
But that can change in MINUTES!
Listen, if you don't like "sales" and the agonizing feeling of rejection, you're not alone. Frankly, I can't stand it either.
I'd literally rather do hard manual labor than be a typical "salesman." But you have to so you can make a living.
But what if you knew how to have hungry buyers beat down your door?
What if Sellers were begging you to list or buy their properties-it can happen and it's all disclosed Step-by-Step in the text.
In the text you'll look at actual HUDs where investors made substantial profits with probates. More importantly you'll see how a broker morphed into a Hybrid Agent and received a 14.5% commission including his profit for a net income of $62,780.69 on a $440,000 sale price with No Money in the transaction, and so can you!
I've been a real estate investor for over 43 years and what you'll discover in this text is the culmination of what I learned the hard way dealing with probates, listing agents, brokers, probate attorneys, probate judges and beneficiaries.
You don't have to struggle like I did; it's all here for you!
When you use what the text discloses, two things will happen.
First, you'll be of genuine help to everyone you work with on either side of the probate.
They'll come away from the experience viewing you as a trusted friend and advisor… who is ready, willing and most importantly, able to resolve their issues and problems.
This should be really important to you because it sets you up for long-term relationships with all the professionals, you'll be working with so all the parties to your transactions are significantly more likely to do repeat business with you for years.
The next thing you'll notice is an Industry-Changing Event and Movement that very few people recognize and even fewer are taking advantage of this Tremendous Opportunity!
You'll discover how to make more commissions, profits and as a "Hybrid" Agent. Here you'll discover how to make both commissions and investor profits on the same deals!
And you'll do it without using any pressure, you won't have to convince anyone of anything, and you won't even have to talk about yourself or your services much at all!
That's because of the way the Step-by-Step learning process in the text works.
As soon as you complete the text (read it at least a couple of times for maximum benefit and refer back to it regularly) then you are ready to start prospecting for listings (Realtors®) or motivated sellers (investors).
Here's What To Do Next…
The Regular Price of this incredible text is usually $47.97 and it's cheap at that price!
We are offering this Introductory Offer at 80% OFF LIST for only!
$9.97
and you get it instantly as a download!
As soon as you place your order, you'll get an automated receipt with a link in your email to download the book directly.
You can access it anywhere, immediately, without having to wait for the mailman.
So you may be wondering about a few things:
1. Why is the book so cheap?
2. I realize this is very inexpensive…so you might wonder what is the "catch".
There is No Catch!
And I know there are some websites out there that offer you a great deal on something but then they stick you in some program that charges your card every month.
This isn't one of them…
There's NO hidden "continuity program" you have to try or anything even remotely like that.
I'm literally giving you this entire book, for $9.97, as a means of "putting my best foot forward" and demonstrating real value.
My hope is that you'll love it and this will be the start of a business relationship for years to come.
Time is of the Essence!
The longer you wait, the longer you'll be stuck in the rut you're in and it may even feel good, but your life could be so much better!
In most cases I take a loss when selling the book at this price.
It costs me Just over $12.00 in advertising expense to sell one book.
So why would I do that?
Simple…
I'm making this offer with the idea that you'll be impressed with what I'm giving you today, and you'll want to do more business with me in the future.
I'm betting that you'll enjoy the book so much, you'll buy additional Courses or take additional classes with me.
In addition, this is a limited offer because it's an experiment to determine if investors, listing agents and brokers are willing to take a chance on "something new" and explode their personal incomes.
If the reception is not what I expected I'll simply take down the offer and only have the text for my Coaching Students to give them an edge.
This is Truly a Limited Offer So Claim Your Copy Now Before It Expires…
hanks for taking the time to read this letter and I look forward to helping you start or greatly expand your listings or your profitable investor deals.
I wish you limitless success in all you do,
DAVE DINKEL
P.S. In case you're one of those people (like me) who just skip to the end of the letter, here's the deal:
I'm offering you a 70+ page, 17,000+ word book that outlines Step-by-Step how to accelerate your Realtor® career and, as an investor, how to make Massive Profits in Probate transactions….even if you have no experience in the Probate industry.
Click the button below and claim your copy now.  You won't regret it.