How to Sell Your Home Yourself in 28 Hours or Less at Full Market
Value, and Save Thousands of Dollars in Real Estate Commissions.
Value, and Save Thousands of Dollars in Real Estate Commissions.
Discover the Secrets of Selling Your Home That Allows You to Get Full Market Value in as Little as 28 Hours – Without an Auctioneer or a Realtor!
An Important Message From Dave Dinkel
"You no longer have to struggle with your home going unsold for months. Now you can control the entire sales process without paying costly realtor's commissions and sell your home faster than any other home in your neighborhood."
The opportunity is here for homeowners to take control of their destinies by using the same selling secrets that professional real estate investors use to sell thousands of homes a year, all at Full Market Value, and in just one weekend.
This is not one of those "fire your realtor®" and sell it yourself books. We don't care whether you use a realtor® or not, because you are about to learn how to save money even when you use a realtor® to sell your property and even if you pay him/her a commission.
This systemized selling program is not an old man dressed in a new suit, because it contains many unheard of, but proven methods, for selling your house in the most adverse or the hottest real estate markets.
The FSBO Power Selling System™ has possibly been the "best selling FSBO" systemized selling program for almost two years. It has just been revised for the troubled markets of 2008 and is being re-offered only in an e-format so you have almost instant access to it once your credit card is processed.
The current real estate market has humbled even the most seasoned real estate agents and investors because of their inability to sell homes quickly. "Quickly" now means in some areas 12 months while in others it may be as little as 3 – 4 months. Hundreds of thousands of innocent homeowners can not sell their homes and are paying two mortgage payments or have lost their homes to foreclosure. Whatever your situation, there is a solution that has proven itself tens of thousands of times in the best and the worst of market conditions.
I have been a real estate investor since August of 1975 and have bought and sold hundreds of single family homes in the best and worst of market conditions. Recently, our local market has been declining by 2% to 10%+ PER MONTH! Imagine the hardship of owning a property which is losing $100 – $500/day, or more, and not being able to sell it because thousands of similar homes are also for sale in your area. But even this market hasn't slowed our selling homes so, there is a solution.
If it's happening to you, you realize how terrible this sickening feeling of being helpless trying to sell your home,. Unfortunately is it currently happening to hundreds of thousands, or even millions of Americans. The dream of home has suddenly turned into a nightmare of losing years of accumulated equity, and personal savings each and every day. Reversing this equity drain simply requires selling your home. Most homeowners have tried it themselves (For Sale By Owner) and given up and turned to realtors who have also had very little success. About 45% of our sales are made to realtors, so now even realtors know there is a solution.
You will soon discover a solution to the headaches and nightmares of selling a home in the worst possible market conditions and in less than a full weekend. As a real estate investor, I stumbled on the solution almost 15 years ago in the midst of a declining real estate market. The rehabbing I had been doing wasn't working because the value of the finished homes was declining about as fast as I finished rehabbing them. The press seemed to "glorify" the poor condition of the economy resulting in buyers just waiting for better prices, unfortunately these reluctant buyers were actually getting lower prices with each passing day!
For me it all changed one day when I was riding in an unfamiliar neighborhood and I saw a sign that really grabbed my attention – "House Auction Today". At first I thought it was for a sale of furniture but I drove by and saw a lot of people looking through the home and entering bids on a sheet of paper. I started speaking with the owner; he had been an investor for many years and had developed his personal style of a modified-auction selling program. Joe and I became great friends until he passed a year ago. Joe was a true friend and generous enough to take the time to tell me the secrets of how to run a home auction and get Full Market Value for my homes when other sellers couldn't even get any offers.
I have to admit that when I started I thought it was real easy seeing Joe conduct his auctions. What I initially didn't realize was that Joe had developed a systemized selling program that took years to perfect. He had every detail covered including everything from how to prepare the property, the exact advertising that worked best, and most importantly, what to do if the property didn't sell the first weekend. I was very skeptical but I saw Joe do it time and time again and started doing it myself and it really, really worked! I was hooked, but I only used the systemized selling program for my rehabbed properties and later wholesale properties that I called "wholesaling to retail" buyers. Yes, I very lightly rehabbed wholesale purchases and sold them at nearly full retail prices to retail because the "system" drove motivated buyers to my homes! And even better it allowed me to accumulate a buyer's list that allowed me to sell any home I could get. I always have buyers waiting for my next property.
I must have seemed like a fool asking Joe a hundred questions including "It must be illegal!", "Where are all these people coming from?", "My realtor says it's illegal, are you sure it isn't?" and on and on. Because he was a true gentleman, he calmly explained the real truth of how anyone can auction any home – if they have a vested interest in the property (ownership). That was the very beginning of my education with Joe and the fabulous growth of my personal full-time investing in real estate. Finally I didn't have to worry about market conditions or where the next buyer was coming from, because I truly found the goose who laid the golden eggs and still who still does to this day.
I have used and improved this "systemized selling program" for almost 15 years and boy does it work! To this very day I am selling properties in markets in just days where the "Days on the Market" (DOM's) are 180+ days for MLS® listed properties. I have even added what I call 34 additional "Unique Selling Propositions" that are additional advertising methods on steroids that are included in my systemized selling program.
A few years ago I discussed the "improvements" I had made to the selling system with Joe and told him I wanted more people to know about it because of the hardship many were suffering by not being able to sell their homes. Joe so go ahead and do it, and what you will be seeing is the result of 15 years of using the most successful systemized home selling system ever, because most home sales using the system take 28 hours or less to sell. Does every home sell this quickly? No, but I can tell you why in every case and about 90% of the time it has nothing to do with price! Because of this, I have added the additional 34 Unique Selling Propositions and go into great detail of what to do and re-do until you sell and close.
So this systemized selling program was created to help homeowners and investors sell their homes at full market value in record time and not pay expensive real estate commissions. As I mentioned, my sales mostly been to realtors and investors because of the unique advantages they have of using the system for every home they sell. However, I do expose some of the secrets of the real estate industry that can help a homeowner or investor get more money for his property from other investors and pay minimal or no realtor's commissions.
I have priced the course so it is extraordinarily affordable to homeowners or investors that need to control the sale of their home and save thousands of commission dollars by not using a realtor®. Realtors and investors will recognize that the system's price is absurdly low. If you have read this far and can't believe it, you are in for a real treat because you will see many more additional ways to make money off each and every home sale you make, whether you're a homeowner, investor or realtor.
This material is dedicated to my friend Joe and to your prosperity and success,
P.S. In real estate markets that are "flat" or actually increasing, this system works even better by getting the seller prices that are above appraisals in the neighborhood. I address the solution to this issue in the text because it has happened to me many times when the market was stable.
Here is just a small sampling of the Secrets of Home Selling that are discussed in great detail in the FSBO Power Selling System™
How to determine an absolutely best "Sales Price" for your home, without using an appraisal, "Broker's Price Opinion" (BPO), "Comparative Market Analysis" (CMA) or anyone's best guess. The process revealed here overcomes the biggest mistake homeowners make when selling their home – not pricing it right to start!
How and when to use realtors and not even pay a commission, or always pay a half commission at most – that alone will pay for the price of this course a HUNDRED times over!
What to do if you are facing foreclosure and want to keep your home, or what to do if you can't afford it and must sell!
What to say to buyers so they betray their buying motives and make them stop their silly beating you up with "is that the best you can do"!
The most common verbal mistake that nearly everyone selling their home makes that costs sellers BILLIONS of dollars annually!
Proof of why you should stop believing that a realtor can sell your home for more money than you can!
Why so many prospective buyers say they "love" your home and never come or call back!
How to stop the "equity vampire" of carrying costs before you are drained of your personal savings!
How and why to pick a professional team – attorney, mortgage broker (yes, you need a mortgage broker), appraiser, home inspector, insurance agent and tax planner and maybe even a realtor (this particular section will save you tons of time and money dealing with realtors)!
Sixteen "special extra instructions" for specific types of sales including divorce, fire damage, condos, job transfers, storm damage, probate, time-shares, really bad markets, career change and move, really ugly condition, vacation homes, and very expensive homes, retirement move, "upside-down on the mortgage, impossible to sell, and especially foreclosures!
Thirty-five (35) Unique Selling propositions, or advertising techniques on steroids, that will help sell your home in as little as 28 hours in conjunction with your using a modified home auction system that eliminates any fear of getting a ridiculous offer and having to sell at that price.
A complete day-by-day program including advertising, what to say to buyers, handling inquiries, handling buyers "on-site", how to negotiate the sales price, answering questions the CORRECT WAY, signing a sales contract, and much more.
Your closing and what the HUD-1 statement is all about, plus how to make money legally from sources you wouldn't have known about, or even expected that even your attorney wouldn't tell you!
Two sources of income EVEN if you don't close with a specific buyer!
And much, much more!
Listen to what just a few of my system owners have said:
Listen to what just a few of my system owners have said:
"I closed today on a property that would have been impossible to sell without Dave's Power Selling System. We bought the burned out home and rehabbed it to perfect condition in about 7 months. Unfortunately, the market collapsed and we were looking at now competing with brand new homes on bigger lots that were selling for $75,000 less! I bought Dave's program, followed it to the letter and the sold our house the first weekend in 28 hours. We even got a buyer for $40,000 about our wildest dream price. We couldn't close because of his credit but we did sell it the next weekend and closed with a great profit. Truly without Dave's program we would be slowing going into foreclosure with the hard money loan we took to rehab the property. Everything Dave says is absolutely true, especially that if you persist in any environment and it will work"
Sandra, Long Island
"I have known Dave for a few years now and I have seen him buy and sell homes very quickly. In fact, he helped us buy our home before it even went on the market."
Jessica, Hollywood
"I am a full-time real estate investor who mentored with Dave Dinkel starting in the free-fall markets of 2007 and am still working with him. His FSBO Power Selling System has literally made me a fortune by being able to know I can sell everything I buy and in just a weekend or two. Plus I get 50 – 100 qualified buyers each weekend for other properties that I have yet to even buy!"
RG, Miami

"I'm Tim and I've done deals with David, we actually had a property and Dave sold it the first weekend we had it. The buyer's deal fell through, but we were able to sell it the following weekend! Dave just has a super secret program for selling these houses and should tell everyone!"
Tim, Homestead
"As a homeowner is distress I was at my wit's end not being able to sell my condo and fast approaching foreclosure. Dave's system bailed me out in only two weekends in a market that should have taken a year to sell."
HH, San Diego

"I have known Dave for 3 years now. I have been to some of the property sales where Dave has had buyers lined up submitting offers while there are houses for sale all around his house! I have seen Dave purchase property in dilapidated conditions and turn them around and sell them in one weekend. He helped us find the home where I live and, with his help, I purchased it for below market value."
L. G., Lauderdale
"As a new investor I was intimidated by other investors' experience and afraid I couldn't sell anything I bought. I purchased the FSBO Power Selling System and started buying houses and selling them to retail buyers within a week. I am looking to do 21 houses this year and I have been in the business only 16 months. Thanks Dave"
T. J., Cleveland
"I want to tell you that Dave and I purchased a property together. We sold it the first weekend we had it on the market, we got our asking price which was above market value and we had several backup offers, it was amazing…"
Bunny Willet, Kendall
"I made my living selling listing to homeowners and didn't actually believe anyone could sell a house any faster that the MLS® and my brotherhood of realtors in the field. I was really wrong and I admit it because the FSBO Power Selling System changed my livelihood in one weekend."
Reformed Realtor, Boston
Here are just a few of the problems the FSBO Power Selling System™ solves –
How to determine REAL Marketable Value of your property when others are telling you too little, or worse, too much.

How to avoid starting at too high a price and believing that you can always "come down". We tell you why this doesn't work and how it can actually decrease your final selling price even further.

How to handle buyers' objections and answer all their questions.

How to make money if you have to extend your closing and how to make money even if you don't close.

How to create all your advertising and why hand-made signs work better than printed ones.

How to determine what inexpensive repairs will get you a higher price for your home and how to implement what needs to be done.

Discover the details about the

closing process that many people don't know,

so you aren't overwhelmed or TAKEN ADVANTAGE OF

at the closing table.

The procedure for getting a closing statement, days ahead of the closing, instead of on the day of closing.
If I Can Sell Houses Quickly, So Can You!
Imagine ……. Being able to sell your home with the peace of mind that you have gotten Fair Market Value or higher, and you saved thousands of dollars while doing it in the quickest time possible.
Imagine ……. Having a system that guides you through the pitfalls of selling your home yourself and reduces or eliminates the aggravation associated with dealing with buyers.
Imagine ……. Being able to save your home from foreclosure even while everyone says you can't.
Imagine ……..Not worrying about what to say to perspective buyers and being able to weed out the "tire kickers".
Is it possible? You bet it is and I am the living proof that it can be done because I have done it hundreds of times.
And you can do it too – even if you are clueless about:
Advertising
Negotiating
Contracting
Pricing
And all the negative things about selling your home you have heard but which frankly aren't true.
If you take action NOW, You Will Discover The Secrets to Selling Your Home Quickly, even if you have had it on the market for a long of time.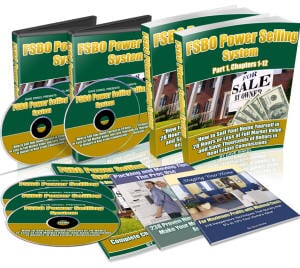 Here is what you get with the FSBO Power Selling System™
A 333 page two-part e-Training Manual packed with vital information to make your home sale as profitable and fast as possible.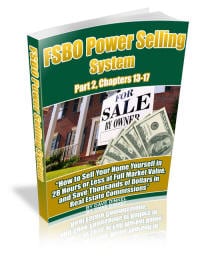 A 27 page Quick Start e-Manual that summarizes the forms, qualifiers, and all the advertising you need and with checklists to get it done efficiently.
If You Purchase Today You Will Get The Following Bonuses!
Bonus #1: (Value $197)
Two DVD Videos
in Downloadable Format
The Secret Techniques I Teach In This Course.
You Will See Me In Action!
I had a camera follow me around so you could "look over my shoulder" during actual sales of real homes most were sold in 28 hours or less in 2007 and 2008. You will see, via video recorded live, how I implement the secret techniques you will discover in this course! Discover the sales techniques I use with potential buyers, which persuade them to "desire" the home I am selling. You will discover how to apply these techniques to the sale of your home by watching them on video!
Bonus #2: (Value $79)
A DVD Training Video
in Downloadable Format
Revealed are the Techniques I Teach In This Course
to list your home on the internet for low to no cost.
Bonus #3: (Value $247)
"Interview With Industry Experts"
5 CD Set in MP3 Format
You will listen in while I interview 5 industry experts and hear their answers to the most pressing questions on the minds of homeowners.
I hand picked the following experts in order to get the best answers:
A Title Attorney will answer my questions about the closing process and reveal tips and secrets which are not "common knowledge".

An Appraiser

will answer questions on how to get the most value out for your property with an in depth explanation of the appraisal process.

A Home Inspector

will reveal an insiders view of an inspection and how to use it to your advantage.

A Mortgage Broker

answers questions on what's important when applying for a mortgage and what You Need To Know before closing.

Flat-Fee Realtor®

reveals tactics and techniques that home owners should use to get the best deal.
"Staging Your Home for Maximum Profits With Minimal Costs"
319 Inexpensive Techniques That Quickly Add 5% to 15% to Your Home's Value
in Downloadable e-format Secrets of professional stagers that add tremendous value to your home for minimal cost.
"Packing and Moving Tips the Pros Use"
238 Proven Hints and Techniques to Make Your Moving as Stress-free as Possible
in Downloadable e-format Secrets of dealing with professional movers, doing it yourself, and what to expect with sections on pets and children.
Bonus #6: (Value $57)
"Consumer Credit Information Everyone Needs"
219 fact-filled pages of pure How and What To Do for do-it-yourself credit repair, what to do in case of identity theft, shopping for various types of mortgages, and hundreds of pages of pure information. In Downloadable e-format
Bonus #7: (Value $197)
"FREE Lifetime Upgrades to your System because this is a "Members Only" Site."
You make only one payment below to become a Lifetime Member of this elite club of investors, homeowners and realtors that own this and many other e-products of Dave Dinkel's
TOTAL Value of Bonuses
$835
Total Value of the FSBO Power Selling System™
PLUS Bonuses
By Ordering Today,
You Get the FSBO
Power Selling System™
Bonuses for
$1,346, $597, $379
Only $179!*
*WARNING – This price is a pre-launch price that will be withdrawn shortly.
Here's A List Of Everything You'll Get With Your Purchase Of Your FSBO Power Selling System
FSBO Power Selling System 2 Part e-Manual (

333 pages

)
FSBO Power Selling System Quick Start e-Manual (

27 pages

)
FSBO Power Quick Start e-Manual (

27 pages

)
Two Downloadable DVDs of actual Home Sales
One Downloadable DVD Training of free or low cost listing sites
5 CD (MP3 Format) set of Interviews with Industry Experts
E-book "Staging Your Home for Maximum Profits with Minimal Costs" (

28 pages

)
E-Book "Packing and Moving Tips of the Pros" (

23 pages

)
E-Book "Consumer Credit Information Everyone Needs" (

219 pages

)
Lifetime Membership and Lifetime Upgrades to FSBO Power Selling System
What is the Real VALUE of the FSBO Power Selling System™?
Assuming your home sells for $250,000
EXPENSE
SAVINGS
Not using a realtor @ 5%
Average Savings | $12,500
"Staging Secrets"

Bonus Book

–
Average Increase in Price** | $18,500
"Closing Secrets" Reduction***
Average Savings | $2,878
Lost interest on $100,000 of Your Equity
$2,500
FSBO Book Camp (2 days without travel, meals or lodging)
$1,797
National Guru's Selling Quick Course (May, 2007)
$1,395
FSBO Boot Camp (1 Day, not including travel, meals, etc.)
$897
Real Estate Guru's "Fast Sell Auction Program"
$597
Aggravation Reduced or Eliminated
Priceless
FSBO Power Selling System System With Bonuses Included!
$179*
* Average time reduction on market of 87 days
** From techniques we use which have been confirmed by a national magazine survey
*** Estimates based on closing costs in our examples but could be higher or lower depending on where you live and other factors.
*Warning – This is price can be withdrawn at any time
So answer this "What is your peace of mind really worth?" You can stop your anxiety, pain and suffering by grabbing your copy of the FSBO Power Selling System™ now before your worst nightmares come true!
If You Are Still Skeptical? Remember Your Purchase Is Backed By My "SIX Times The Value Of Your Investment – Guaranteed!"
I hate seeing the word "guarantee" everywhere. What is it supposed to mean? Just words. Platitudes to get you to buy. So, I'm making you more than just a guarantee.
Mine is a personal promise to you.
I honestly believe this is the most powerful, intensive, but easy-to-learn FBSO Selling System currently available – perhaps ever available. I don't want you disappointed
so here's the Guarantee…
SIX Times The Value Of Your Investment – Guaranteed!
I have decided to give all FSBO Power Selling System™ Owners the most unusual guarantee ever made. I currently charge $500 per hour for my Personal Coaching, where I personally teach homeowners or investors exactly what to do to sell their homes very quickly at full market value.
If you purchase my system and implement all the secret techniques and tips it has, but are still unsuccessful at selling your home, I will personally consult with you by e-mail and analyze your situation and give you my personal coaching free of charge!
This is worth $250 or Six Times Your Purchase Price!! If you are truly serious about getting rid of your unwanted home, this Is The Greatest Guarantee Ever! You Will Sell Your Home With The Powerful and Proven Techniques Shared In This System, or I Will Give You Personal One-On-One Coaching And Give You A CUSTOMIZED PLAN, Made For Just For You, With The Steps You Need Take To Sell Your Unwanted Property.
It's my 30-day —
So don't wait a second more!

YES!
I see the tremendous benefit of having your knowledge and experience on my side. I want to be discover the secrets and techniques you have developed that you use to sell homes in as little as 28 hours!
"FSBO Power Selling System"
Still Not Convinced?
Dear homeowner, investor or realtor,
If you have gotten this far and still haven't made your mind up, you may be forgetting that if my System helps you sell your home even one day sooner than not owning it, the System will easily pay for itself, not even counting the additional ways to save money I explain in the text.
Frankly, I have been criticized by people in the investing community for not charging much more money for this material, and that I shouldn't include the bonuses. I priced it at this ridiculously low price to make it so completely affordable to every homeowner, investor and realtor that even the worst of skeptics could refuse to buy it. If there are still people that are too stubborn to try my System, I can't say much else"! If anyone is so smart they can't learn from someone with 33 years of real estate investing experience, they should be writing this book instead.
To everyone else I offer encouragement and the best of all possible conclusions in selling your home(s).
Sincerely,
P.S. Your investment in the FSBO Power Selling System is less than SIX HOURS of just one day of your carrying costs on your home, isn't it worth taking a chance even if you only sell your home one day sooner?