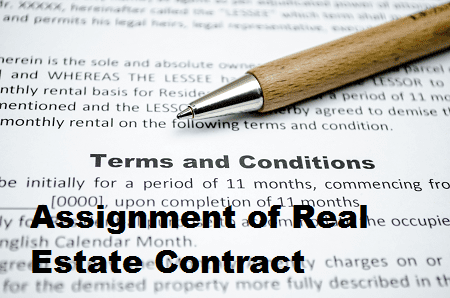 Assignment of Real Estate Contract – Do Your Homework!
How to use an Assignment of Real Estate Contract on something you don't own.  The question that constantly comes up in wholesaling real estate is "How can you sell something you don't own?" You can't sell something you don't own UNLESS you have an equitable interest in the property. As investors this equitable interest takes the form of a signed contract from the seller. It could be an option agreement or other contractual agreement that will allow the investor to purchase the property if and when he is able to do so or by a specific time (closing date).
Some investors believe that by using an Assignment of Contract that they are then actually selling the Assignment of Real Estate Contract for the property and not the property itself. However, the concept is the same, the original contract from the seller to the investor allows for an equitable interest in the property which can be assigned or sold. If the original contract says there can be no assignment, this clause can be overridden by simply adding a clause to the original contract that allows an assignment of the real estate contract.
However, and unless the seller signs a listing agreement with an investor who is also a Realtor®, the property will generally not be listed for sale on the MLS®. This can vary if a Power of Attorney (POA) is issued by the seller that allows the buyer to list the property on his behalf.
Recently a Realtor® told a Student that only individual(s) on title could sign a listing agreement and that was the law. But think about it – what if the seller on title is deceased or incapacitated so a court order is needed to list the property. Would this listing agent not accept a listing agreement from a court appointed fiduciary? What is the real difference from a legal POA? Actually, it would appear to be at the Realtor's® whim.
This ownership issue is a non-issue for people who understand equitable interest but is widely misconstrued by Realtors®. This misinformation keeps agents from making more commissions on business they could have done but were not informed about how to do the transaction legally. One of the best sources for finding out what is legal in any state is to contact closing attorneys and closing agents who are vendors at local REIAs (Real Estate Investment Associations) as these guys and gals are on the front line of the battle every day between uninformed well-meaning people and doing deals daily in spite of this distraction.
Part of the problem goes to strict interpretation of regulations that were originally designed to prevent fraud but do not take into account what really happens in investor transactions. If strictly enforced, these regulations could stop all option contracts which are used every day in multi-million dollar commercial transactions and tens of thousands of single family home transactions every year.
In summary, before you get your mind stuck on "You can't do that!" do a little investigation into how this very thing is being done legally hundreds of thousands of times a year through assignment of real estate contracts.
Obviously, this dissertation is not meant to be legal or accounting advice, always seek the help of attorneys or CPAs for professional advice. This will help you earn more money by doing what is allowable by law but typically shunned by misinformed individuals.
To your limitless success,
Dave Dinkel
Real Estate Mentor Program Founder
Visit davedinkel.com for full privacy policy, terms of use, etc.  Be sure to contact us through the website at davedinkel.com if you have questions or concerns (support@davedinkel.com).  Results mentioned in this presentation and any video, article, and/or material related to Dave Dinkel and his associated businesses are not typical nor are a guarantee of any earning potential.  No advice is to be construed as legal, accounting, or professional advice EVER.  Please consult related licensed and qualified professionals before taking any action.  No person(s) mentioned in the articles and /or shown on videos received compensation in any form for their opinions.